"He's afraid now that I will remember the wrong thing. That I will tell it not the way I'm supposed to," says a woman in Svetlana Alexievich's book about Soviet women's experience of fighting in World War II, 'War's Unwomanly Face'. It applies to women's experience of conflict and war everywhere, though: Once women stop being victims, and become combatants, physically, or psychologically, they are met with unease. Women are silenced on the topic of war, by men and women, and also by the traditions and genres of journalism, history and publishing.
"We usually think of wars as something that men do, says a reviewer of the Unwomanly Face of War. Boys play with toy soldiers and toy guns, and play with real things when they get older, right? But women have been fighting in wars throughout history. We just don't know their stories. We know the stories of men. The women remain in the background, mostly silent, occasionally telling the stories of the war from the accepted 'manly' perspective. Until now," Says Nataliya, a book reviewer on Goodreads.
"Everything that we know about the war we were told by men," writes Svetlana Alexievich. "We are the prisoners of "manly" impressions and "manly" experiences of war. "Manly" words. Women always remain silent, and if they suddenly begin to speak they tell not about their war but the war of others. Adjust to the language that is not theirs. Adjust to the unbreakable canon of men[…] There is another war, unfamiliar to us. I want to write the story of that war. The story of women's war… " writes Svetlana Alexievich. I want to write that story, too. In my new novel, THE CLEANSKIN, a woman responds to a politically motivated attack on her father by volunteering for a war, the longest running war in history, between Great Britain and the IRA.
But it can pose a challenge for publishers. One told me it was a shame to be talking about terrorism, when so much about the book was so pleasurable – and I get it. There is no easy genre title for what I am trying to do – and I find books are either situated in the domestic realm or the public one, too exclusively, too much of the time. Conventions of genre can be like prisons, forcing a story into a pattern of tough guys or soft women. Domestic concerns like the struggle for intimacy or public ones, like the struggle for justice. But women live in that public space also, of struggling for justice, and men live in the private. These are human issues.
Readers are often underestimated, I think, in what their interests and pleasures might include. The English novelist Pat Barker comes very close to what I am attempting to do in my fiction. She writes intimately about repercussions of lasting consequence, and manages to encompass a world that combines all our interests, all our lives, and which doesn't fetishise one aspect of life at the expense of the others. Sexual expression, political expression, emotional expression – they can't be separated. Don't we all want justice? Don't we all come to a point where we realise we have to fight – whether that's with weapons, or with lies? And don't we all want love? And connectedness? And feel cold and wish someone else would make the dinner for once?
A literary agent told me that the scenes with the IRA in THE CLEANSKIN were unrealistic. In what way? I asked her – knowing that in fact they were based on oral histories, and so in that way, were 'accurate'. She couldn't say, but I think I can guess at what she's getting at – "We are the prisoners of "manly" impressions and "manly" experiences of war," as Svetlana Alexievich said. The scenes in THE CLEANSKIN are told from a woman's point of view, what's more, from someone who is out of her depth, and not in control. Whatever myths and legends draw participants in real life – and in much of our fiction – to those scenes of bomb making and strategizing for violence – they don't operate properly when such a woman is involved, or when it's told from her point of view. They're not 'manly'. Even at the time, in real life, when women were there, their presence disturbed the men involved, and afterwards the women have been quickly and thoroughly airbrushed out of the story, as has happened for the women who have fought in The Troubles, and the women who fought for the USSR in World War Two. Women's involvement in our public wars, and, also, often, men's involvement in our private ones, are censored. Finally my work came across the desk of an editor who said 'this is a kind of story not told in Australian fiction. It deserves to be widely published, and admired.' She compared the novel to William Boyd's Ordinary Thunderstorms, and said there had been nothing like it up until now published here. I was relieved. I thought so, too.
In my work I am trying to unite the public and the private. At present, our experience of war is often bifurcated, in reporting and journalism, and in fiction. There's the 'home front' and the 'battle front'. But nothing, let alone war, is that simple. It doesn't begin when the shooting starts, and it doesn't end when peace is declared. The effects of it go on over lifetimes, weaving through families, and patterns of feeling, and behaving, and relating, as I explored in my novel, IN THE MOOD, which is about the time just after a husband returns home from fighting in World War Two.
Women's and men's experience of life does not occur either in a public space or a private one, either; in a subjective world or an objective one, but inside our own skins, all wrapped up together, inside ourselves, our bodies, through which we have to navigate life. The consequences of our actions are borne out in our how our lives unfold, and what happens in our relationships, in our minds, and in our feelings. In my writing I am attempting to push these artificial, damaging divisions away, and get at the whole.
And it's not just women's struggle for justice that I want to write about. I want to write about men's struggle for intimacy and connection, alongside women's. I want to break down whatever wall exists now between 'here', and 'over there', 'the other', and 'us'. I want to bring the diversity of those faces into both spheres. I want to write about before, and after. About all of us struggling with the consequences of what we do in the world and bring home, and vice versa, and how ultimately there is no division. Both in the ways we conduct conflict, and the ways we conduct peace. As the poet Lisa Brockwell said, when I asked her how her life affects her writing: 'My writing is informed by my life experiences as Obama's presidency is affected by his life experiences. Or the CEO of Wesfarmers is informed by his personal experience in his Chief Executive Officering.' Or as a soldier's life affects his soldiering, she could have said. Our insides eventually come to reflect our outsides, and vice versa, as Halley, one of the main characters in THE CLEANSKIN discovers, whether we want it to, or not. Our only way out is to seek connection between the two, and that's what, with my fiction, I am trying to do.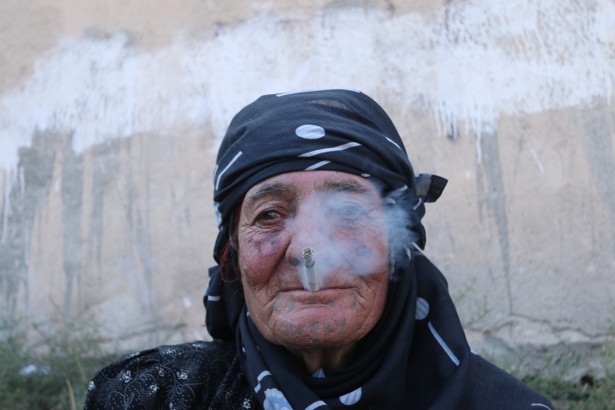 A woman smokes Friday after the Syria Democratic Forces drove ISIS out of Manbij. Smoking was one of the many activities prohibited by the group. Rodi Said / Reuters from www.theatlanticmonthly.com
I would like to acknowledge Sasha Dugdale's whose poem, 'Days,' Published in Compass, drew my attention to Svetlana Aleksievich's history, 'War doesn't have a female face.'
An excerpt:
War is liquid-thought-fire
it burns the mind –
I feel you are burnt irretrievably
your imagination exposes beams
your memories are shapeless ruins.
I've been scalded. As when I pick the pan up wrong
or let the steam hiss out over my hands.